This morning, I am linking up with Kati at
Incorporating Color
and Kate at
Classy Living
for a Monday post called "The Good, The Bad, and the Ugly."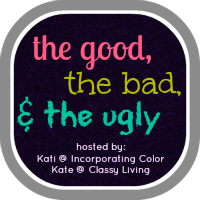 The Good:
This weekend was pretty quiet and we spent some quality time just hanging around. My mom is here again visiting so I was able to get some stuff done around the house and went grocery shopping (exciting I know). The weather was gorgeous yesterday and Liam got to go for a great walk in his stroller.
This is from last week, but Liam loves being outside.
That's our fire pit above Liam's head btw...we have yet to light it this summer which is highly unusual for us.
The Bad:
Uh, can we talk about the weather on Friday and early Saturday? What a disgusting dumping of rain
. I mean I know we needed some rain, but did it have to come down in sheets? We were stuck in the house all day on Friday. Luckily it cleared up for some time outside on Saturday.
The Ugly: I started getting organized for our big Chicago trip next week. Oh lawd, how will we fit it all? Why did no one tell me a kid needs eleventy jillion things to leave the house? I mean I should have known considering what is packed in the diaper bag, but holy bananas we have so much stuff to bring with us. And that doesn't even begin to cover all the things I am going to need to be ready for this wedding. I need one of those top of the car turtle shell thingys. And it doesn't help that I have no where to organize all the stuff I am putting aside...it's all in Liam's crib right now. Keep you posted on how the packing goes. I am going to have some serious space-managmatizing to do in my car.
How was your weekend? Link up and tell us all about it.
Liam wants to hear about it...