I am linking up with Ashley over at
The Sweet Season
for Friday's Letters.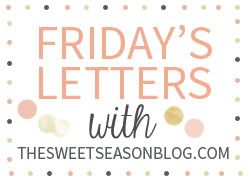 Dear Hubs,
Thanks for loving me and putting up with my occasional grumpus-ness. You mean the world to me and I couldn't ask for a better man to share this life with. I am very much looking forward to this three-day weekend with you and the boys.
Dear Max,
I love you to pieces crazy dog, but you need to stop the jealous stealing of everything that doesn't belong to you. I know you don't get nearly as much attention since L arrived, but we still love you and you need to behave!
Dear New Students,
Please be a good group of kids and take it easy on your teacher who will really be struggling to stay focused on teaching while her baby is at home. I promise to do my best to be an awesome teacher this year if you promise to try your best too.
Dear Weather,
Please cooperate and don't be too shitty this weekend. I am looking forward to some outside time at some point.
Dear Mom,
Thanks for joining this crazy household and taking care of Liam while we work. I know it won't be the easiest transition living with your control freak of a daughter but we are so happy and blessed that you can do this for us.
Dear Liam,
You are the best baby in the world. You make me laugh and smile all day long. Now please take a nap that lasts longer than 32 minutes so Mommy can maybe catch up on some sleep today. K, thanks!
Link up with Ashley and post your Friday's Letters.
Enjoy the long weekend!