I am linking up with Ashley over at
The Sweet Season
for my first ever Friday's Letters. I am hoping this can become a regular Friday post.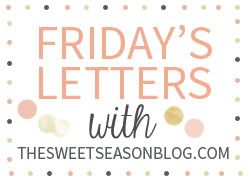 Dear Friday,
Thank you for finally arriving. This week was dragging and I am beat!
Dear Co-workers,
Thank you so much for the amazing surprise baby shower yesterday. This little boy is so spoiled and I feel so loved.
Dear Weather,
Please cooperate and don't be too cold tomorrow for my family shower. I have a cute dress I want to wear and my ginormous belly is not going to fit into any sort of tights or stockings at this point.
Dear Headache,
You suck and need to go away. Like now.
Dear House,
Clean yourself because I just don't have it in me.
Head over to Ashley's great blog and link up with her for your own Friday letters.
35 week and shower posts will be coming at the end of the weekend.
Have a great weekend!